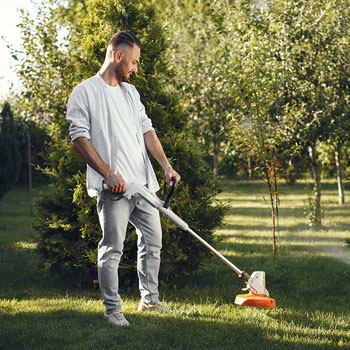 Get Professional and Prompt Grass Cutting Services In Douglasville
Are you looking for Grass cutting services providers in Douglasville? Why worry when you have professionals like us by your side? Lawn Barberz is a locally owned, experienced lawn care & maintenance company providing top-notch quality Grass Cutting Service in Douglasville. From basic grass mowing to trimming, you can avail yourself of all the essential services to groom your lawn. We know how much people of Georgia care about their property. You can count on us to make your lawn healthy and beautiful to stand out in the neighborhood.
Working with a professional service provider can make your lawn care task easy and hassle-free. Here At Lawn Barberz, we not only focus on providing perfect grass cutting services, but we also strive to make your lawn healthy and pleasing to your visitors' eyes. So, if you are ready to make your property wholesome, check out how we work:
First, you need to schedule your appointment as per your time and date. You can contact us via phone or email or book an appointment online through our website.
Schedule Your Appointment
As per the basic requirements of your lawn, we will provide you with a Grass cutting package beneath your budget. Select a grass cutting service package and book your appointment instantly.
Experts At Your Convenience
Well-qualified and fully-equipped experts will reach out to your doorstep at the scheduled time. Enjoy hassle-free services at your convenience.
Our Trusted Lawn Cutting Service in Douglasville
Every lawn is different and requires customized services as per its needs and size. We are have known Douglasville land, grasses, and trees for years. With our vast years of expertise, we are offering trusted lawn cutting and mowing services in Douglasville. Here are the reasons why you should get reach services to get your task done without any hassle.
Get Affordable Grass Cutting Service In Douglasville!
Ready to make your lawn meet new standards in your neighborhood? Book your appointment now to get professional lawnmowers at your doorstep. Along with Grass Cutting Services, you can also avail yourself of our other lawn maintenance services and one-stop solutions to effectively and promptly make your lawn beautiful and healthy. Feel free to contact us now!